Làn fhìrinn na sgeòil . The truth is in the story
I spent many years travelling around the Highlands and Islands of Scotland as a tour guide. sharing stories about history and culture. I then started to explore the stories of Highland Second Sight as held in the accounts of people like the Brahan Seer. Through telling these stories I found it inevitable that there was truth in the stories. I then started to experience Second Sight for myself.
These precognitive experiences built up to one day in the Spring of 2012 when I journeyed, with my wife Heather, to Musselburgh. I wondered why the bookmakers were so busy. I had known for a week that the Grand National had been won by a 33-1 shot called "Neptune… something or other." Heather and I discussed this on our journey home and I insisted that the race had been completed a week before.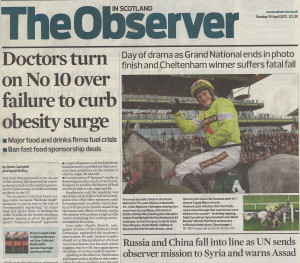 The next day Heather handed me the newspaper. The reality was that the race took place as we travelled back from Musselburgh. The winner was "Neptune Collonges" at 33-1.

An archetypal precognition had occurred. It is my understanding that I experienced the precognition because I had devoted time to stories about precognition. Knowyourself makes stories work in the same way for all the elements of our lives like – wilderness, nature, society, friendships, family and how we feel about our self.
Stories are not just entertainment  – they are powerful tools to help us learn about our self.